Laster's Fine Art & Antiques is pleased to offer, for the first time to collectors of American art, watercolors by the acclaimed poet A.R. Ammons (1926-2001).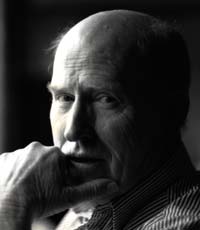 While teaching at Cornell University (1964-1998), Archie Randolph Ammons painted almost continuously throughout the 1970s in an upstairs bedroom of his home in Ithaca, New York. Friends familiar with his poetry were astonished to learn that he was as driven to paint as he was to write, and when they saw his brilliantly conceived abstract expressionist paintings, they purchased some from the poet. By the time of his death, his reputation as an artist had attracted the attention of private collectors.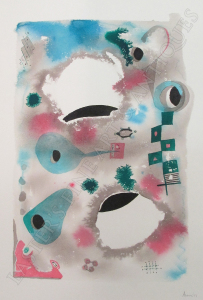 In a memorial issue of Epoch, the literary journal of Cornell, friends and colleagues paid tribute to Ammons' lifetime achievement in literature (National Book Awards, Guggenheim, Academy of American Poets, Academy of Arts and Sciences, a MacArthur Fellowship), and major attention was given to his paintings by Professor Elizabeth Mills of Davidson College, who is writing a book about the connections between Ammons' paintings and his poems. Mills also wrote about paintings exhibited on the website of Poetry magazine.
Ammons' paintings have been exhibited at the Hanes Gallery of Wake Forest University; Reynolda House in Winston-Salem, North Carolina; East Carolina University; galleries in Ithaca, New York; and in a New York City exhibition of paintings by important American writers. Thirty-two paintings are on permanent exhibition in the Ammons Gallery of the Z. Smith Reynolds Library of Wake Forest University.
About A.R. Ammons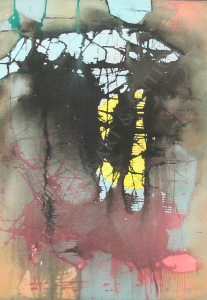 Archie Randolph Ammons (February 18, 1926 – February 25, 2001), better known as A.R. Ammons, was an American poet and artist. Ammons grew up on a tobacco farm near Whiteville, North Carolina. He served in the U.S. Navy during World War II where he began writing poetry. After the war, Ammons attended Wake Forest University where he graduated in 1949 with a degree in biology. After marrying his wife, Phyllis Plumbo, Ammons studied literature at the University of California at Berkeley. The two then moved to South Jersey where he served as an executive to his father's biological glass factory.
A.R. Ammons published his first book, Ommateum, with Doxology, in 1955, selling only a few copies. He continued to write poetry and publish pieces in journals. He also served as poetry editor of the Nation for six months. Ammons was asked to give a reading at Cornell University in 1963, where he would be offered a teaching position just one year later. Ammons spent the rest of his professional career at Cornell, eventually becoming Goldwin Smith Professor of English and Poet in Residence until he retired in 1998.
Works Available for Purchase
Before Ammons died he gave his remaining collection to his friends, Emily and Ed Wilson of Wake Forest University, in gratitude for their friendships and in expectation that the paintings might find a larger audience. Laster's is acting as exclusive agent for the sale of Ammons watercolors in our Winston-Salem gallery and online.
This is just a sample of the watercolors we have for sale. We have others available for viewing in our gallery. Please call or come visit us to take a look at what we have to offer.
Below is an excerpt from Ammons' poem Changing Things, which is a reflection on his time spent painting.
…During Christmas vacation in 1976, I got the notion, which I had had passingly but often before, to try watercolors. I'm sure I was attracted to the possibility of bringing together in one visual consideration of the arbitrariness of pure coincidence with the necessity of the essential, the moving from the free as the work of art begins, through the decisions of pattern and possibility, and into and through the demands of the necessary, the unavoidable, the inevitable…

–Changing Things, A.R. Ammons copyright 1981